Scale and maintain compliance
Make your compliance processes more efficient

Compliance management for a variety of use cases
Specific compliance requirements can vary, depending largely on the industry and type of business. Oriana's compliance management solution addresses a wide range of national and international regulations and standards.

Suitable for large enterprises
The solution integrates with existing solutions and third-party systems and databases, providing enterprise-grade services for auditing and data security requirements.

Quick, customizable solution
Set up the entire system within weeks with the help of pre-built modules. Redesign digital processes in days to meet ever-changing requirements. Scale and customize the solution as you grow.

Streamlined vendor risk management
Streamline vendor selection, assessment, approvals, and monitoring, manage vendor and third-party risk centrally.

Risk database
Our database of basic risks speeds up the process of compliance within the company.
Wide applicability
Oriana's Compliance Management application offers an effective solution for a variety of uses cases from product safety to corporate fraud, or reputational risk.
Tax, accounting and reporting obligations
GDPR
ISO 9001 
Organizational risks, ISO 31000
Work instructions, machine maintenance instructions
Product compliance
Internal regulations

Occupational safety and fire protection
Take control of your compliance processes with our simple and customizable low code platform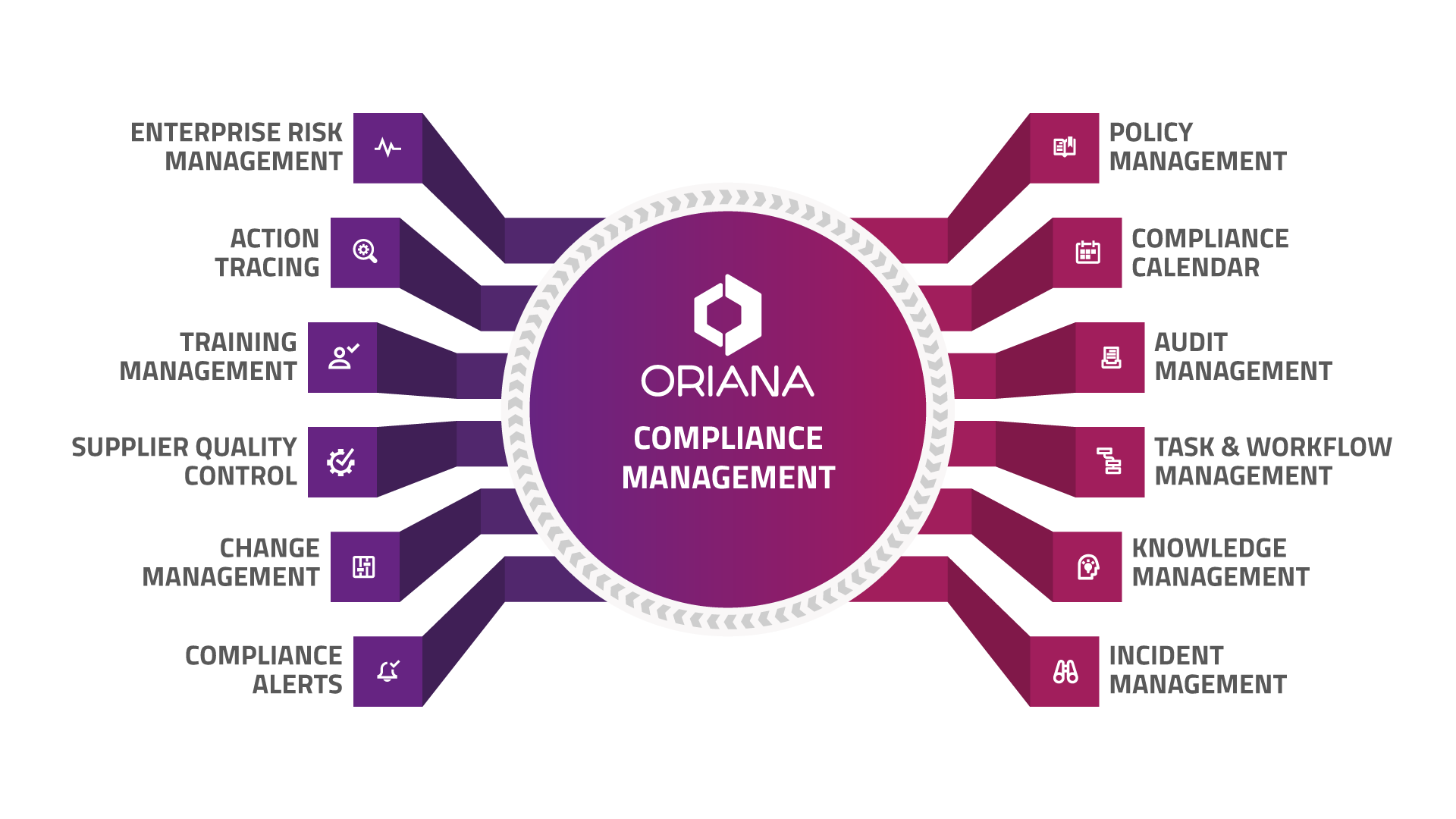 Compliance Management on the Oriana Low-Code Platform
Today, organizations must comply with an increasing number of regulations. Oriana helps companies to comply with industry and security standards, corporate and regulatory policies, and requirements with a flexible and scalable compliance management solution built on a low code platform.
Book a personalized demo to see how Oriana can support your compliance management needs.