Future-proof your business with low-code software solutions in 2024
A comprehensive guide to maximizing productivity and optimizing IT budgets in times of economic uncertainty
This eBook has two key purposes: to discuss cost-saving approaches for organizations in times of uncertainty, and to suggest best practices for digitalization so their teams can effortlessly develop their customized, in-house solutions, equipping them to successfully navigate even the most demanding situations.
Low-code software solutions –
the must-have technology for uncertain times
The past few years' events have driven the world into a state of economic uncertainty, impacting many organizations across the globe. These businesses are finding themselves confronted with serious financial constraints, forcing them to undertake a comprehensive reassessment of their IT budgets. This often entails making tough choices, including the painful decision of implementing mass layoffs or halting IT tool subscriptions. In response to these challenges, many organizations are turning to low-code software to streamline their operations and reduce costs.
Let's explore why low-code software solutions can be a game-changer for your organization.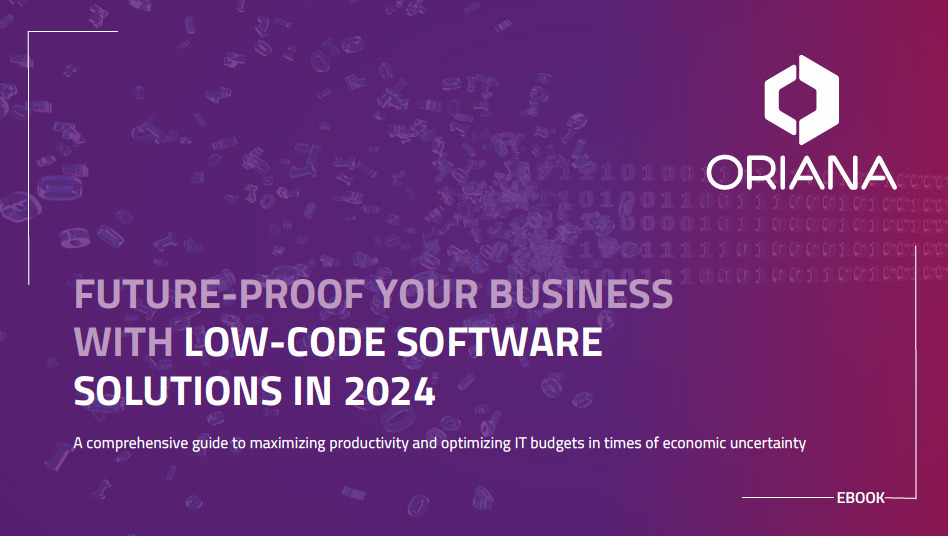 About
Oriana
We have been helping organizations in the private and public sector solve their most complex Digital Process Automation (DPA) challenges, and transform their businesses since 2002. Early on in our journey, we discovered the power of low-code technology to accelerate design, development, and deployment of software solutions. Our ever-expanding content library serves simple to complex digital process use-cases. Today, enterprises, government agencies, custom development firms, and independent software vendors rely on the Oriana Low-Code platform.