Low-code platforms have been making significant inroads into all aspects of business and organizational IT for some time, providing much swifter and more cost-effective solutions for a wide variety of applications.
Oriana's low-code solution is a case in point, with the platform having received rapid uptake from many companies. Recently the myth has also been busted that low-code 'doesn't do enterprise grade'. It does, and Oriana's solution is in use across large-scale organizations, providing seamless operation through an ever-growing library of prefabricated components, also known as prescriptive elements. The platform has also recently been upgraded with a new release, version 6.5.
With this background, it's noteworthy that research firm, Forrester, has just published their latest report into the low-code sector, titled "Prescriptive Low-Code: The New Quest To Marry The Best Of Packaged And Custom Apps" which highlights Oriana's leading role in the fast developing low-code market. This adds further fuel to the ongoing discussion of buy versus build when looking at customizable solutions. The re-use of code will always be quicker than building or writing code, and this is the essence of the prescriptive approach, where higher-level functionality can be packaged and deployed. Application code blocks, as in Oriana's approach, often contain similar functionality across several processes in an organization, adding further justification to re-use these blocks to support standardization and simplification across digital processes.
Forrester coined the term 'prescriptive' low-code to describe software that is targeted on the pro-coder world, and also on Citizen Developers, where applications can be built more quickly, and yet there is still access to the source code for further customization. With Citizen Developers also being able to benefit from the use of prescriptive software, a 'best of both worlds' approach is possible, where the real users of an application in a business department can easily develop ideal workflows which exactly suit their needs. At the same time, the platform is always contained safely within the IT ecosystem of the organization. So, no more shadow IT, rather a safe, approved by the IT department approach, which allows and encourages users to make systems behave the way they need them to. And the cost-effective part? Low-code allows apps and workflows to be deployed in significantly less time than conventional programming would take, with very little input from costly IT specialists, even if there are integration-heavy scenarios involved, and to reach raw development, coding man-days are high.
The Forrester report places Oriana among the top low-code vendors providing a prescriptive approach to app development, therefore turning the spotlight on Oriana's low-code platform. Forrester points to the fact that a vendor able to serve customers with a common platform, providing prescriptive elements, a set of business components, and packaged solutions, will have the means to win new customers, and retain existing customers.
At Oriana, that's exactly what we do, so to be featured in the Forrester report, and have our strategic perspective outlined so clearly endorses almost twenty years of development. Oriana's low-code solution is a world-class platform, proven across a vast range of organizations. Oriana's aim is to create a product that can easily fit into any company's IT architecture – from small business to enterprise-grade, helping their IT to better serve the business, in full alignment with the interests of the CIO. This consists of supplying the development tools,  templates, and best practices to make a company successful. It's an aim being realized, day in, day out, with Effector Studio and its powerful drag and drop console being used to create the backbone of the application and more.
The Oriana low-code platform builds on different components/modules to provide the whole feature scale: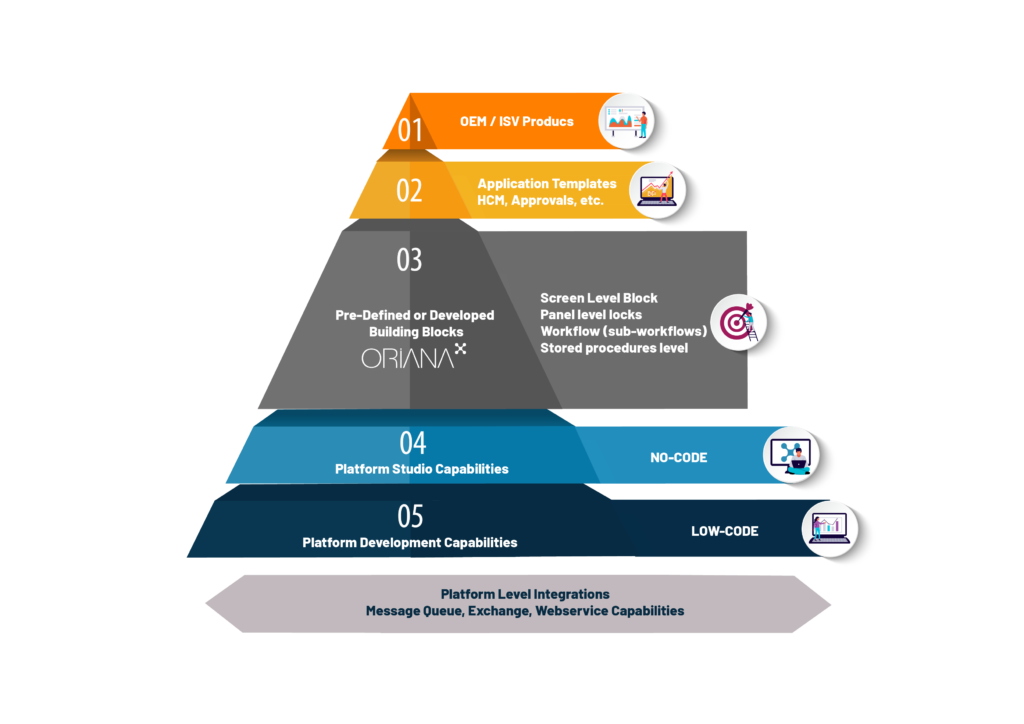 As described in another Forrester report from 2019 which also featured Oriana's Effector, the approach of the platform, "Is a productive middle ground between subscribing to software-as-a-service (the fastest way to "deliver" business applications) and custom application development using low-code platforms. "Prescriptive" is a good way to describe this approach because the platform prescribes both application architecture and modular structure with reusable components. Application components typically cover small business functions (screens, forms, etc.) that belong to each other and pre-delivered apps such as timesheets, invoices, or content management. They are similar in their purpose and scope and are therefore suitable to be – in essence – reused. It's not necessary to design every app from scratch, so there are clear cost and time savings involved.
At the same time, it's beneficial to have a common Application architecture that underlies the many different components making up the system. An architected system means that components work in concert, which increases performance and allows for easier updating. So, the term 'prescriptive' encompasses both the overall architecture which comes built-in, along with the ecosystem of apps that have been built with it.
At Oriana we are gratified that Forrester rates us as a serious global contender and that the ease of use, flexibility, and cost-effectiveness of the platform is now being focused on.